Categories
E-liquid Barly - Red Vanilla 10ml
Sold out / Production stopped
Have we discontinued the product you're interested in? Let us know at
jsme@vaporism.cz
, and we will find out about the possibility of restocking.
Vynikající evropské náplně Barly s příchutí tabákových směsí a sladkých tónů.
Similar products
Related products
Product description
Vynikající náplně Barly s příchutí tabákových směsí.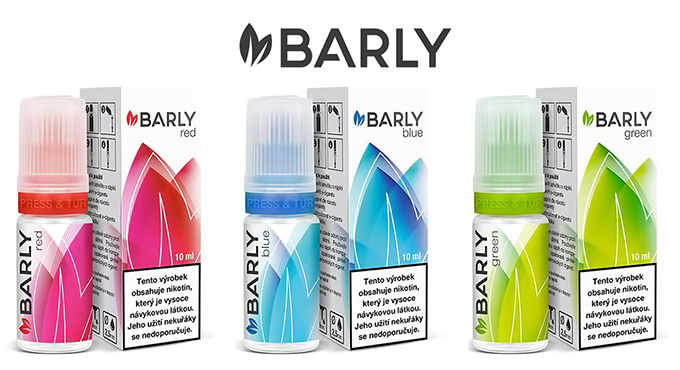 S e-liquidy Barly si užijete typickou chuť tabáku ve třech oblíbených variantách. Chybí vám příchuť intenzivního tabáku s pořádným "hitem" jako u silných červených cigaret? Máme pro vás Barly Red. Pro milovníky jemnějšího tabáku a lehkých cigaret je zde Barly Blue. Neobejdete se bez příjemně chladivého mentolu v kombinaci se skvělým tabákem? Barly Green je přesně pro vás.

Jedinečnost Barly náplní se neskrývá pouze ve výborných tabákových příchutích, ale také v rozdílných silách nikotinu a poměrech propylen glykolu a rostlinného glycerolu (PG/VG). Zatímco intenzivní Red si s poměrem 50PG/50VG a s vyšší koncentrací nikotinu dopřejete spíše pro klasické potahování pusa-plíce, jemné Blue se poměrem 30PG/70VG a nižšími silami nikotinu hodí více pro nízkoodporové atomizéry a přímé potahování do plic. Chladivé Green nabízí 40PG/60VG a koncentrace nikotinu, ze kterých si vybere každý.

Náplně Barly jsou vyráběny v Evropské unii za přísných podmínek, které odpovídají nejvyšším standardům. K přípravě jsou použity pouze ty nejlepší evropské suroviny. To zajišťuje Barly e-liquidům jejich jedinečnou a výjimečně věrnou chuť, kterou si vychutná naprosto každý.